AOM SCRUBBOX Series commercial kitchen exhaust electrostatic precipitators.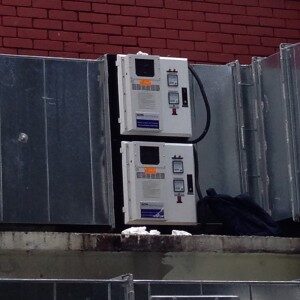 AOM dry scrubber series electrostatic precipitators use induced electrostatic charge to charge and collect passing particles (down to 0.01 micron) in a kitchen exhaust system.
The units are made of solid construction and heavy-duty collection plates that deliver consistent performance at up to 98% efficiency (based on EPA Environmental Analysis Laboratory – NIEA A101.74C testing as well as University of Sydney independent testing). Engineered to work 24 hours with minimal power consumption, the units provide effective containment of dust, oil, grease, and smoke in a kitchen exhaust system.
Electrostatic precipitators are widely used internationally to treat commercial kitchen exhaust. Made of materials compliant to AS 1530, they fully meet the requirements of AS1668.2-2012 and allow for the design of Engineered Solution allowing for non-compliant discharge points. This allows for a high-efficiency filtration of kitchen exhaust and reduces fire risks in the kitchen exhaust system, whilst keeping with a low overall system resistance.
An external heat exchanger constantly regulates the temperature of the electrical components in the electrostatic air cleaner, ensuring optimal performance. An equipment power cut-off feature (when the air cleaner's door is opened) has also been added to further enhance product safety. The incorporated high voltage power pack also comes with the de-energizing capability to ensure swift and safe service and maintenance of the kitchen exhaust air cleaner.
Manufactured by the AOM factory in Taiwan, quality production and stringent quality control mean that all units stand the test of time.
In addition, AOM dry scrubber series electrostatic precipitators have undergone strict independent testing to attest to its superior efficiency, safety, and quality.
The AOM dry scrubber electrostatic precipitators come equipped with prefilters, electrostatic cells, and BMS connection points. The units can be coupled either with AOM Ozone Generators or Carbon Modules with or without in duct UVC emitters to ensure odor mitigation of the exhaust and offer a full filtration solution.
The arrangement of AOM dry scrubber electrostatic precipitator units is flexible. They can be stacked or be placed side by side in a double pass formation to achieve even higher filtration efficiencies if required.
Available Models are:
• SCRUBBOX 200
• SCRUBBOX 300
• SCRUBBOX 400 (stacked to form SCRUBBOX 800)
• SCRUBBOX 600 (stacked to form SCRUBBOX 1200)
• SCRUBBOX 800 (stacked to form SCRUBBOX 1600)